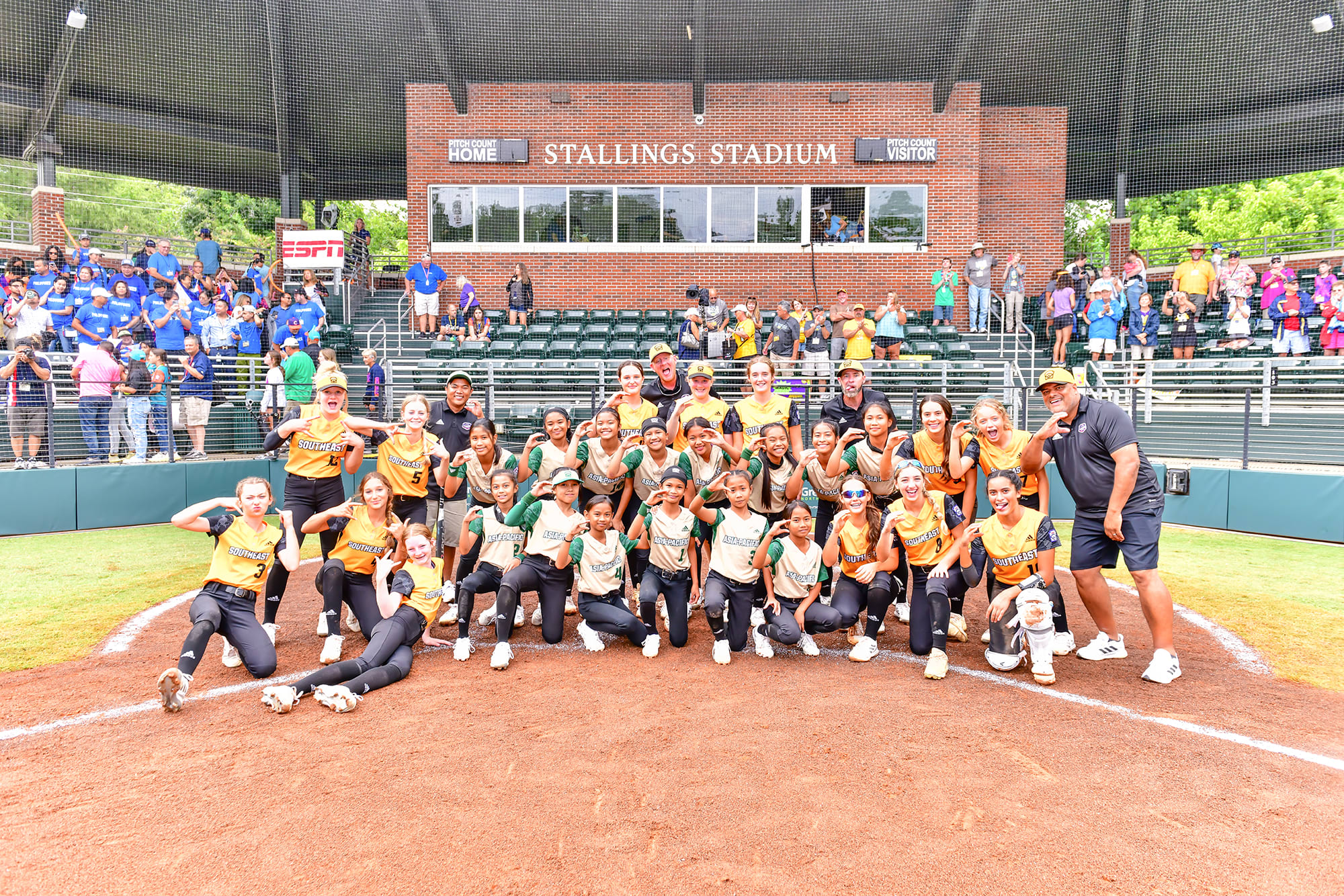 Following an exciting end to the Women's College World Series that saw more than 25 former Little Leaguers® take the field, and just one month until the first Little League® game is aired on the ESPN Platforms, Little League International is gearing up for another exciting #SummerOfSoftball that will feature history in the making all summer long.
"Year after year, the game of softball continues to find new ways to bring excitement to fans all around the world and we could not be more excited to be part of that history with this year's Summer of Softball in July and August," said Ashlea Miller, Little League Director of Softball Development. "Thanks to the help of our amazing partners at Athletes Unlimited, and the continuous support from our friends at ESPN, we are thrilled to bring softball to life in communities all around the world this summer in ways that have never been seen before."
Starting with the Little League Softball® U.S. Region Tournaments on July 22, Little League will get set to air more than 150 softball games across its three divisions of play, culminating with the Little League Softball World Series being aired for the first time on ABC on Sunday, August 13. This comes after a historic year in 2022 that saw ESPN's most-watched Little League Softball World Series tournament since it expanded its coverage of the tournament in 2017.
History will also be made on August 8-9 as the top players in the game head to Greenville, North Carolina, to play in the first ever AU Pro Games at the Little League Softball World Series, featuring a doubleheader at East Carolina University's softball stadium on Wednesday, August 9, beginning at 4:30 p.m. ET, with both games televised live on ESPN2. As part of the inaugural event, Athletes Unlimited players will also take time on August 8 to visit Stallings Stadium at Elm Street Park, the home of the Little League Softball World Series and interact with all 12 participating teams from around the world, providing each of them with a unique and memorable experience exclusive to this event.
Below are the players on the Athletes Unlimited Softball roster played Little League Softball as kids:
Aleshia Ocasio – Conway (Fla.) Little League *2021 AU Softball Champion*
Kathryn Sandercock – McLean (Va.) Little League *2013 LLSWS Runner-Up*

Aliyah Andrews

– Oldsmar (Fla.) Little League

Mia Davidson

– Orange County (N.C.) Little League

Hannah Flippen

– Sweetwater Valley Little League (Bonita, Calif.)

Rachel Garcia

– California District 51 Little League

Shannon Saile

– Land O' Lakes (Fla.) Little League
Peyton St. George – Atlee (Va.) Little League
Jessica Warren – Citrus Park Little League (Tampa, Florida)

Morgan Zerkle

– Ona/Milton (Va.) Little League
Carolina Jacobsen – Chaires-Capitola Little League (Tallahassee, Fla.)
Myka Sutherlin – Gilbert (Ariz.) Softball Little League.
In addition to the alumnae listed above, inaugural Athletes Unlimited Softball champion and Advisory Board member, Cat Osterman is enshrined in the Little League Hall of Excellence as a graduate of Bear Creek Little League (Houston, Texas).
On Saturday, June 24, Little Leaguers will also have a chance to visit Rosemont, Illinois, for the start of the final series in the AUX season as part of a Little League Day celebration. Once the AUX season concludes on June 27, the fourth championship season of Athletes Unlimited Softball is set to take place July 28 through August 27, featuring a five-week season with 60 of the world's best players competing exclusively on the ESPN platforms.
Set to take place on August 6-13 in Greenville, North Carolina, the 2023 Little League Softball World Series will once again feature 12 teams from around the world, divided into the Purple and Orange brackets, competing for the championship banner. To see the full schedule, as well as information on how to visit the Little League Softball World Series, check out LittleLeague.org/LLSWS.
In addition to all the excitement surrounding the Little League Softball World Series, fans can also watch the competition at the teenage divisions of play with the Junior League Softball World Series from July 30 to August 5 and the Senior League Softball World Series from July 31 to August 6.
To learn more about all divisions of the Little League Softball program, including how to get involved and to find a program near you, visit LittleLeague.org/Softball.
---
About Athletes Unlimited
Named one of Fast Company's Most Innovative Companies in 2023, Athletes Unlimited is a new model of pro sports, where athletes are decision-makers and individual players are champions of team sports. Athletes Unlimited owns and operates professional women's softball, lacrosse, volleyball and basketball leagues featuring world-class competition and fan experience, and stands out as an organization driven by the athletes that play in the leagues, with athlete representation on the company's board of directors, each league led by a Player Executive Committee, and players sharing in long-term profits of the company, all while being proactive in shaping policies supporting the mothers that play in the league. Athletes Unlimited is the first professional sports league to be organized as a Public Benefit Corporation. The second season of Athletes Unlimited Basketball concluded in March 2023, and will be followed by a new season of AUX Softball in June. The 2023 Athletes Unlimited Lacrosse and Softball Championship Seasons are set for this summer followed by the third season of Volleyball this fall. For more information, visit AUProSports.com.