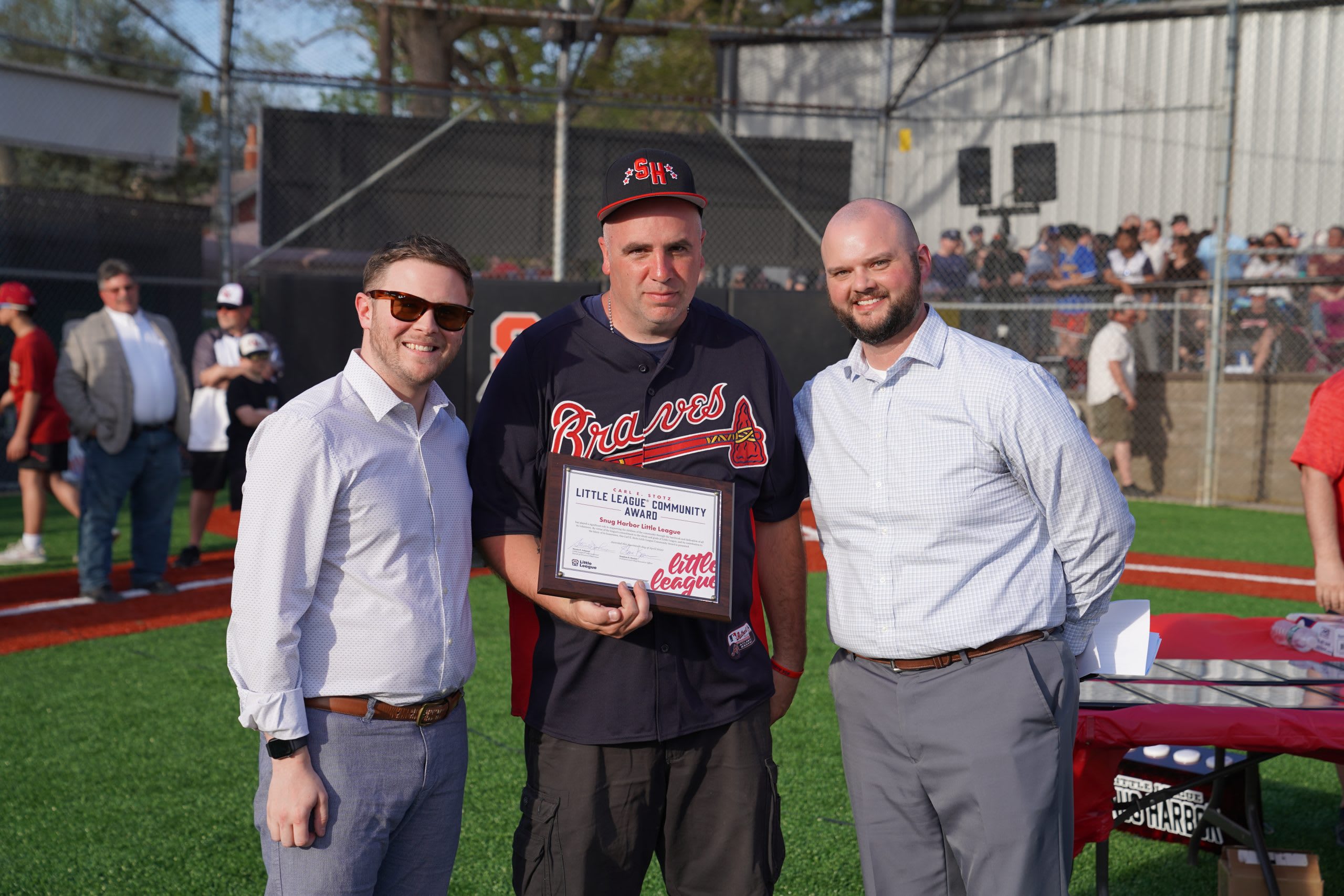 On April 14, 2023, the phrase "Friday Night Lights" took on a whole new meaning as Snug Harbor Little League in Staten Island lit up its ballfields for the first time ever thanks to the support of Musco Lighting and the MLB-MLBPA Youth Development Fund (YDF).
Installing the lights was no overnight project, however, but rather the culmination of a multi-year vision from Snug Harbor Little League's former League President, Anthony Varvaro, who was tragically killed in a vehicle accident on September 11, 2022. A former MLB pitcher who also served as a Port Authority Police Officer when not volunteering for Little League, Mr. Varvaro was an iconic figure throughout his Staten Island community and was committed to creating the best possible Little League experience for all the players, volunteers, and families throughout his community.
"Anthony's dedication to the Snug Harbor community serves as an inspiration for our Little League volunteers all around the world, and we are pleased to present his league with the 2023 Carl E. Stotz Community of the Year Award," said Stephen D. Keener, Little League President and CEO. "We are grateful for our dear friends at Musco Lighting, as well as the MLB-MLBPA Youth Development Foundation, for contributing to this great league and for making these renovations that Anthony dreamed of years ago a reality this year."
Since it began in 1964, Snug Harbor Little League has been where Staten Island's North Shore youth and families have come together. However, as the borough's only league without field lighting across its two baseball fields and softball field prior to this year, the league has faced barriers with scheduling and programming ancillary events for the local community. Now equipped with the proper funding thanks to the support of Musco Lighting and the MLB-MLBPA Youth Development Foundation, the new lighting system will allow Staten Island's North Shore community to access the ballparks for both daytime and nighttime activities, host additional games during the fall, and expand its enrollment numbers to be in line with other leagues in the borough. The lighting project is part of a $2.2 million renovation project, originally initiated by Mr. Varvaro, which is now being lived out with his legacy thanks to the leadership of his brother-in-law, who took on the role of League President after Mr. Vavaro's passing.
"Little League means everything to us here in this community and meant the world to Anthony," said Dennis Thomson, Snug Harbor Little League President and Mr. Varvaro's brother-in-law. "You can't find a better community than the one we live in here on Staten Island and everyone here makes it a point to turn out for our Little League events. While we've all been knocked down hard, it's time for this league to get up and keep going and that's how we're going to honor Anthony."
Mr. Varvaro's leadership and inspiring personality has helped created the foundation for the league over the past for years, and in 2022, Snug Harbor Little League was able to provide opportunities for more than 550 children across its community to compete in more than 300 games. Thanks to these new upgrades, Snug Harbor Little League will continue to live out Mr. Varvaro's legacy and enhance and develop those opportunities to provide memories to more families each year.
Starting with the 2023 season, Snug Harbor Little League has also made the decision to name its facility the "Anthony Varvaro Memorial Complex" and will be retiring Mr. Varvaro's iconic No. 24 from use within the league as well as the surrounding leagues across Staten Island. The only players who will be permitted to wear the number are his four children, including his son who had the opportunity to play the first game under the new lights on Friday.
The 2023 Carl E. Stotz Little League Community of the Year Award was presented to Snug Harbor Little League by Brian McClintock, Little League Senior Communications Executive, and Aaron Weber, Little League East Region Director, during the league's Opening Ceremonies on Friday, April 14, which festivities also included a NYPD helicopter flyover, fireworks show, and the league's first night game under the new lights. In addition to Mr. McClintock and Mr. Weber, representatives from both Musco Lighting and the MLB-MLBPA Youth Development Foundation, along with local officials, the Port Authority Police Department Superintendent, and Little League Baseball® World Series alumni and MLB veteran Jason Marquis, were also in attendance to enjoy the league's first day of action this season.
About the Carl E. Stotz Little League® Community of the Year Award
When Carl E. Stotz organized the first Little League® season in 1938, he leaned on the Williamsport community for support. On June 6, 1939, the first Little League game was played, and the local businesses and residents played a significant role in the success of that first year. Today, Little League is the hallmark of more than 6,500 communities around the world. To recognize the importance of local Little League programs to the fabric of society in their hometowns, Little League established the Carl E. Stotz Little League Community Award.
The Carl E. Stotz Little League Community of the Year Award is focused on honoring a league that creates a player-centric culture and is aligned with the goals of the Little League International Strategic Plan. Eligible leagues will carry some, if not all, of the following traits: inclusive, diverse, softball/female participation, high-quality experience, meets the needs of underserved communities, removes barriers of entry, etc. The recipient league earning this award will also be presented with a $5,000 grant to support their efforts. To learn more about this award, and the rest of the Little League Awards Program, visit LittleLeague.org/Awards.