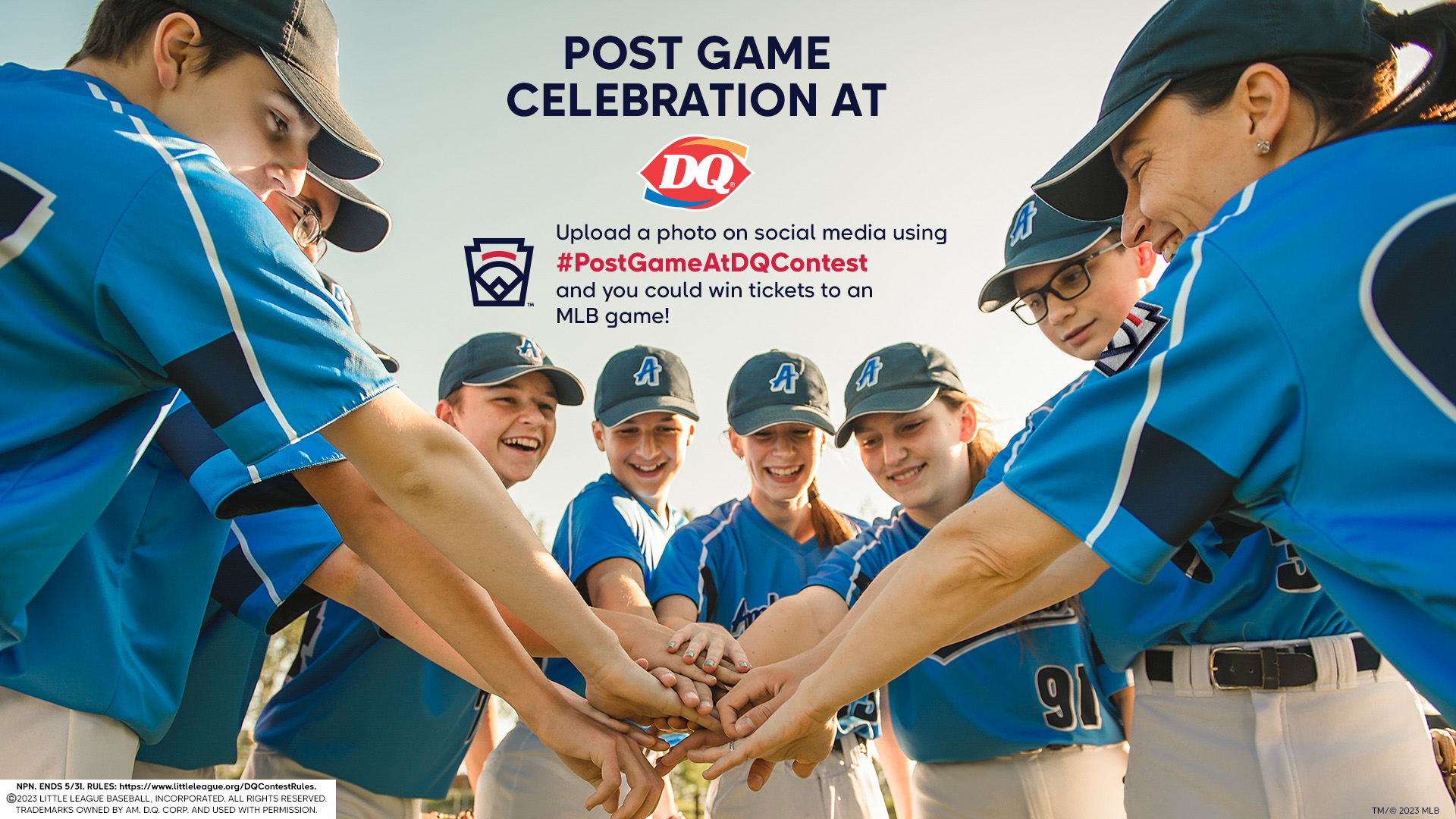 In celebration of the new partnership with American Dairy Queen Corporation (ADQ) and Little League® announced on April 10, 2023, families will have the opportunity to show off their postgame celebrations at their local DQ® locations with the launch of the "Postgame Celebration at DQ Photo Contest."
As the Official Postgame Destination of Little League, ADQ knows that the best moments are the ones the bring people together, both on and off the field, and wants teams and families to head to their nearest DQ restaurant after their games to celebrate, take photos, and enter for a chance to go to a Major League Baseball game with their entire Little League team.
"We are grateful to begin our partnership with the DQ brand, which has such amazing synergy with Little League and the postgame celebration," said Liz DiLullo Brown, Little League Senior Vice President and Chief Marketing Officer. "This season, DQ locations will be creating extra special memories for Little Leaguers and their families, celebrating all the memories of the experience, regardless of wins and losses."
Those interested in participating are encouraged to post photos of their Little Leaguer® enjoying their postgame celebrations at their local DQ location on Twitter or Instagram by using #PostGameAtDQContest or by posting their photo as a comment on one of ADQ's promotional posts on Little League's Facebook page before May 31, 2023, for a chance to win tickets for a unique experience at a Major League Baseball game. For all the official rules and information regarding the Postgame Celebration at DQ Photo Contest, visit LittleLeague.org/DQContestRules.
NO PURCHASE NECESSARY. TRAVEL NOT INCLUDED. Open to 50 US & DC (excluding TX), 18+ and a parent/legal guardian/coach of a child between 4-16 as of the date of entry who is a Little League baseball/softball player for the '23 season. Enter by 11:59 p.m. ET on May 31, 2023. Void where prohibited. Restrictions apply. For details including prizing and restrictions around entering if you are a coach, see Official Rules at LittleLeague.org/DQContestRules . Sponsor: Little League Baseball, Incorporated.
In addition to the Photo Contest opportunity, players wearing their Little League uniforms to their local DQ restaurant can receive a $1 small cone from May 1 through July 31, 2023, so stop by a DQ location after the game and celebrate together with teammates, family, and coaches.
---
About International Dairy Queen, Inc.
International Dairy Queen Inc. (IDQ), based in Minneapolis, Minnesota, is the parent company of American Dairy Queen Corporation (ADQ) and Dairy Queen Canada, Inc. Through its subsidiaries, IDQ develops, licenses and services a system of more than 7,000 restaurants in over 20 countries. IDQ is a subsidiary of Berkshire Hathaway, Inc. (Berkshire), which is led by Warren Buffett, the legendary investor and CEO of Berkshire. For more information, visit DairyQueen.com.