Due to the Coronavirus (COVID-19) pandemic, Little League International, under the direction of its Board of Directors, made the difficult decision to cancel the Little League World Series and Region Tournaments at all divisions for the 2020 season. Those dedicated volunteer umpires who have been selected to participate in the 2020 Region tournaments and World Series events will have their invitations extended to the 2021 season, should choose to accept this opportunity. More information can be found at LittleLeague.org/Coronavirus.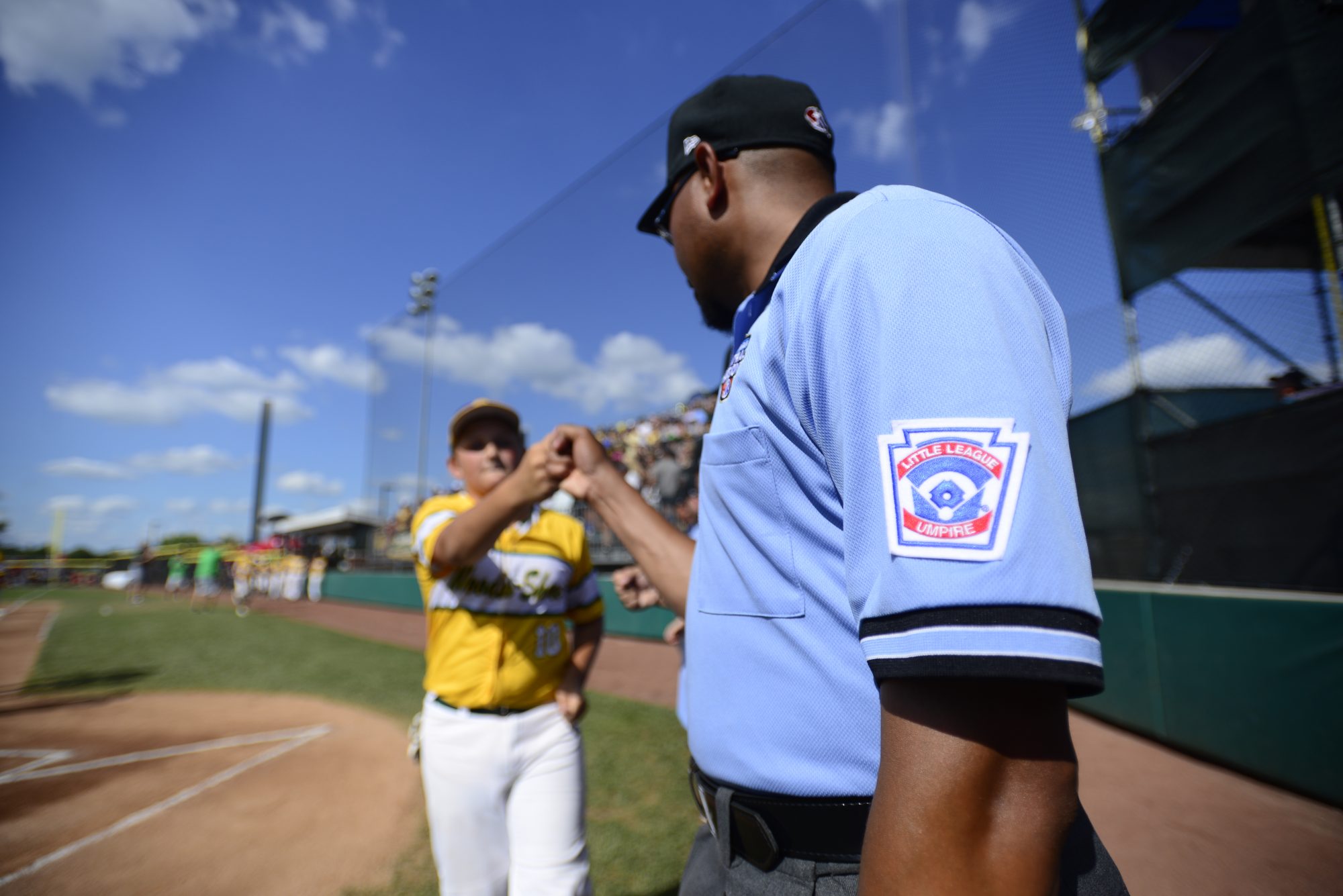 Each year, the holiday season becomes just a bit more special for 90 dedicated Little League® volunteers who receive their official notifications with their official umpire assignments for the Little League World Series tournaments.
Volunteer umpires are one of the most important aspects in the success of local Little League programs around the world and play a pivotal role in the experience of all of our players throughout the Little League International Tournament. As a way to continually develop these volunteer umpires throughout the year, Little League International offers a variety of digital training and educational resources available on LittleLeague.org/Umpires, a bi-monthly Fair Ball Newsletter, access to the free Little League Umpire Registry, and formal training through Umpire Clinics and Schools around the nation.
The selection process to become a World Series umpire is lengthy and rigorous. In order to be eligible to volunteer in a Little League World Series event, an umpire must first have competed in a regional tournament event. After that experience is completed, the process for selection to work a World Series begins with an application submitted by each volunteer umpire through the Umpire Registry. Once received, the District Administrator may also provide comments to the regional office for review. Little League's nine regional offices then consider all nominated umpires before selecting those who most closely meet the selection criteria.
Individuals who meet those qualifications are then screened annually by Little League International and regional staffs for selection to umpire in a Little League World Series tournament.
Appointment as a member of the umpiring crew for a World Series is the highest honor that Little League can bestow on a volunteer umpire. An individual can be selected for a World Series assignment once every four years, but being chosen to work the Little League Baseball® World Series is a once-in-a-lifetime opportunity.
Little League International will support all volunteer umpires at the seven World Series events with a travel stipend to help offset the costs for the men and women to attend their respective World Series events.
The list of volunteer umpires at each of the seven Little League World Series tournaments is as follows:
Little League Baseball World Series (South Williamsport, Pa.)
(by name – place of residence – region represented)
Wayne Beaumier – Cypress, Texas – Southwest
Kenton Bottoms – Lawrenceburg, Kentucky – Central
David Brown – Calgary, Alberta – Canada
Andrea Galiano – Fort Lauderdale, Florida – Southeast
Henry Garnett – Ramona, California – West
Mark Gilmour – Kahibah, New South Wales, Australia – Asia-Pacific
James Hinojosa – Romulus, Michigan – Central
Philip Levesque – Nashua, New Hampshire – East
Rigobert Obispo – Willemstad, Curaçao – Latin America
Michael Orlando Jr. – Peabody, Massachusetts – East
Richard Ranalli Sr. – Jersey City, New Jersey – East
Scott Strache – Chicago Ridge, Illinois – Central
Blake Taylor – Nuneaton, United Kingdom – Europe and Africa
William Vikara – Pace, Florida – Southeast
Brett Wagner – Odessa, Texas – Southwest
Dennis Williams – SeaTac, Washington – West
Little League Softball World Series (Greenville, N.C.)
(by name – place of residence – region represented)
Mitchell Lemponen – Ashtabula, Ohio – Central
John Cheesbrew – Fredericksburg, Virginia – Southeast
Douglas Durling – Davenport, Florida – Southeast
Walter Gross – Rio Rancho, New Mexico – Southwest
Greg Hodges – Needville, Texas – Southwest
David Mancari – Poughkeepsie, New York – East
Joseph Muriente – Camuy, Puerto Rico – Latin America
Mark Oda – Pinole, California – West
Chester Rice – West Des Moines, Iowa – Central
Jamie Sims – Beaverton, Oregon – West
Joseph Ungrady – Oxford, Connecticut – East
Intermediate (50/70) Baseball World Series (Livermore, Calif.)
(by name – place of residence – region represented)
Terrance Bean – Clarion, Pennsylvania – East
Sean Belfry – Gansevoort, New York – East
Jim Catania – North Vancouver, British Columbia – Canada
John Cleary – Moorpark, California – West
Mark Dieringer – Port Lavaca, Texas – Southwest
Seddrick Dixon – Fort Pierce, Florida – Southeast
Chris Ekstrom – Davenport, Iowa – Central
Filip Havlik – Prague, Czech Republic – Europe and Africa
Josh Koenig – International Falls, Minnesota – Central
Todd Marr – Arlington, Texas – Southwest
Ucal Palmer Jr. – Austell, Georgia – Southeast
Rafael Ruiz – Mayaguiz, Puerto Rico – Latin America
Don Tsukamoto – San Jose, California – West
Junior League Baseball World Series (Taylor, Mich.)
(by name – place of residence – region represented)
Carl Anable – Westworth Village, Texas – Southwest
Felton Brown – Houston, Texas – Southwest
Toby Colon – Havertown, Pennsylvania – East
Sal Gambino – Fallbrook, California – West
Mike Goicoechea – Tampa, Florida – Southeast
Patrick Griffin – Galesburg, Michigan – Central
Rob Macdonald – London, Ontario – Canada
Jules Martina – The Hague, Holland – Europe and Africa
Michael Phinazee – Tallahassee, Florida – Southeast
Gaspar Santos-Gonzalez – Cidra, Puerto Rico – Latin America
Owen Sprague – Cornish, Maine – East
Tomoyuki Tada – Jakarta, Indonesia – Asia-Pacific
Roderick Williams – Indianapolis, Indiana – Central
Junior League Softball World Series (Kirkland, Wash.)
(by name – place of residence – region represented)
Rex Fogle – Menomonee Falls, Wisconsin – Central
Michael Foltz – Luray, Virginia – Southeast
Juan Galarza – Villalba, Puerto Rico – Latin America
Scott Goodwin – Phoenix, Arizona – West
David Jones – Red Cliff, Alberta – Canada
Jeffrey Lindhorst – Ingleside, Texas – Southwest
Ross Pease – Vernon, Connecticut – East
Milton Pitt – Forest Heights, Maryland – East
Jeffrey Pratt – San Jose, California – West
Richard Randall – Youngstown, Ohio – Central
Ian Tyra – Sterling, Virginia – Southeast
Brandi Watson – Elgin, Texas – Southwest
Senior League Baseball World Series (Easley, S.C.)
(by name – place of residence – region represented)
Bill Bailey – Jersey Shore, Pennsylvania – East
Robert Curtis II – Bangor, Maine – East
Hector Figueroa-Rodriguez – San Juan, Puerto Rico – Latin America
David Frye – Fort Pierce, Florida – Southeast
Brian Hollowell – Goshen, Indiana – Central
Philip King – Lancaster, Ohio – Central
Rich LeMieux – Lake Stevens, Washington – West
Thomas McDonald – New Braunfels, Texas – Southwest
Rodger Moss – Brazoria, Texas – Southwest
Guy Vilt – Bradenton, Florida – Southeast
Marc Reyes – Maple Ridge, British Columbia – Canada
John Yots Jr. – Foothill Ranch, California – West
Senior League Softball World Series (Lower Sussex, Del.)
(by name – place of residence – region represented)
Robert Cain II – Taylor, Michigan – Central
Paul Eaton – Redmond, Oregon – West
Stephen Gaither – King George, Virginia – Southeast
Adrian Gaudet – Calgary, Alberta – Canada
John Hill – Portland, Maine – East
Kyle Hughes – Ballinger, Texas – Southwest
Keith Ludwig – Trappe, Maryland – East
Rumini Modestro Thode – Willemstad, Curaçao – Latin America
Thomas Peckham – Seattle, Washington – West
Vincente Piscitello – Seminole, Florida – Southeast
Mark Saurer – Louisville, Kentucky – Central
Ronald Thompson – Rio Rancho, New Mexico – Southwest