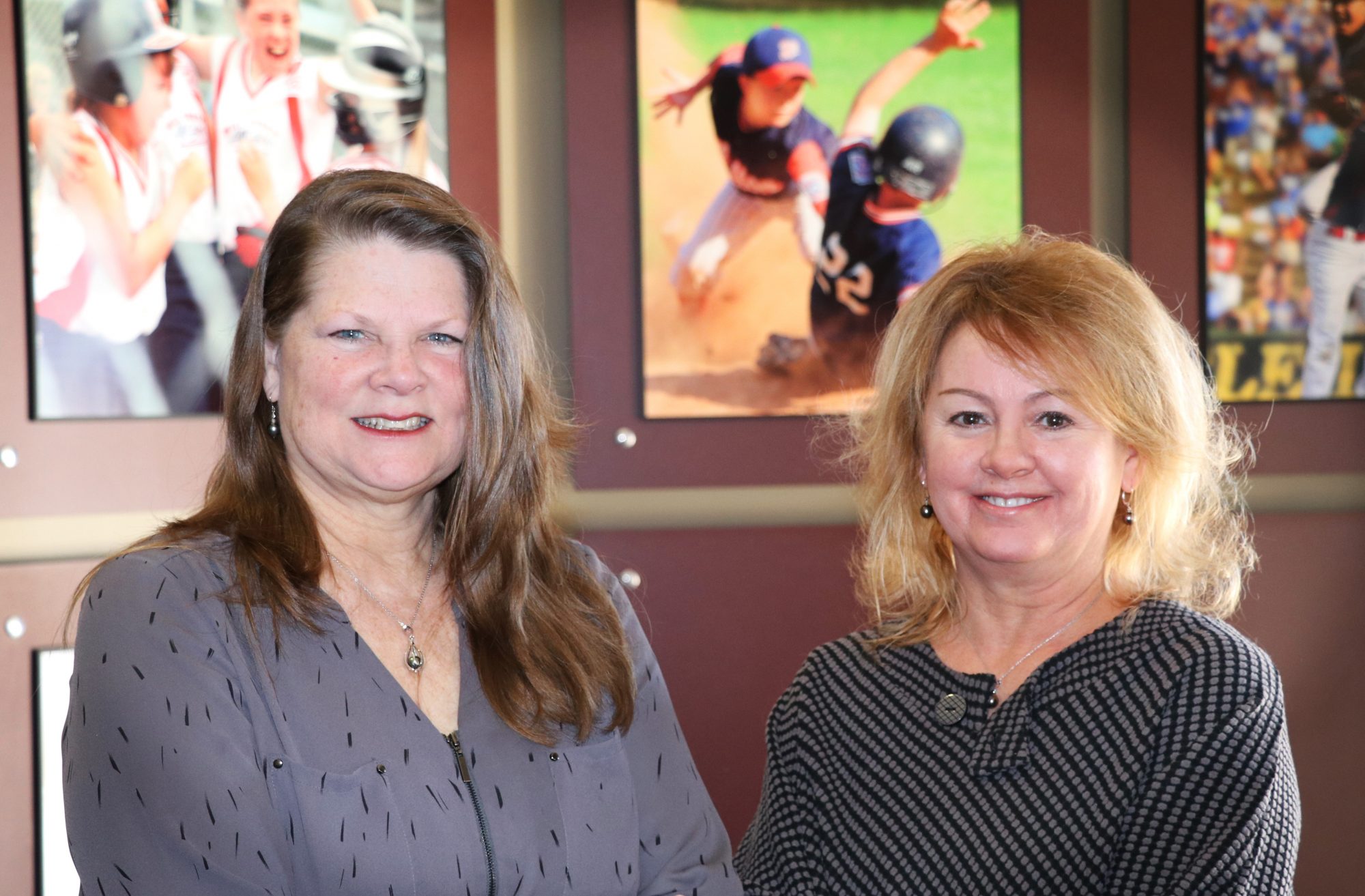 Michele Richards, Executive Assistant to the President and CEO of Little League® International, has announced her retirement after more than 30 years of service at the Little League International headquarters in Williamsport, Pennsylvania. As part of the transition, Pam Wright, a current Executive Assistant at Little League International, has been promoted to as the Executive Assistant to the President and CEO effective as of February 28, 2022.
"We cannot thank Michele enough for the valuable contributions she has made over the years. Michele has never sought nor expects accolades, but she deserves all of them. So, on behalf of all of us at Little League International, we extend a big thank you to Michele along with our very best wishes for a healthy and happy retirement," said Stephen D. Keener, Little League President and CEO. "Like Michele, Pam Wright has been a loyal and valued member of the Little League family for nearly 25 years, and we are very pleased she has earned this promotion and opportunity. We have the utmost confidence in Pam as she assumes this new role."
Michele Richards
Mrs. Richards, a resident of Jersey Shore, Pennsylvania, joined the Little League organization as Executive Secretary to the Marketing Department in February 1992. She held the position of Executive Secretary to the Chief Financial Officer (CFO) until May 2010, when she assumed her current position as Executive Assistant to the President and CEO. Throughout her time at Little League, Mrs. Richards has played a key role in the administrative duties of the organization and has been instrumental in maintaining and organizing the schedule, tasks, and day-to-day efforts of the President and CEO. In addition to her daily efforts, Mrs. Richards also assisted with the coordination of the Little League International Board of Directors and efforts surrounding the quadrennial Little League International Congress events.
"Working for Little League has provided me an opportunity to meet and work along-side dedicated and loyal volunteers and professionals excited about helping children, families, and communities," said Mrs. Richards. "In my more than 30 years with Little League, I can look back fondly on the many special experiences, but I can say without a doubt Mr. Keener and Mr. [David] Houseknecht, among many others, are who made Little League a great place to work."
Pam Wright
Mrs. Wright, a resident of Loyalsock Township, Pennsylvania, was hired in November 1997 as a secretary and typesetter in the Public Relations Department. In July 2010, Mrs. Wright was promoted to Administrative Assistant to the CFO and in January 2019, she assumed her current role as Executive Assistant. During her time at Little League, Ms. Wright coordinated ticket distribution for the Little League Baseball® World Series and efforts surrounding the quadrennial Little League International Congress events, managed usage of Little League International's facilities by local organizations and Little League programs, as well as accepted and acknowledged donations on behalf of the organization.
"I have met and worked with so many inspired people during my years at Little League," said Mrs. Wright. "Working alongside Michele, as well as Scott Rosenberg and David Houseknecht, has shown me how understated professionalism, dedication to details, and a humble demeanor are evenly important to making the Little League experience uniquely special to volunteers. I am looking forward to assuming the responsibilities of Executive Assistant to the President and am grateful for this opportunity."