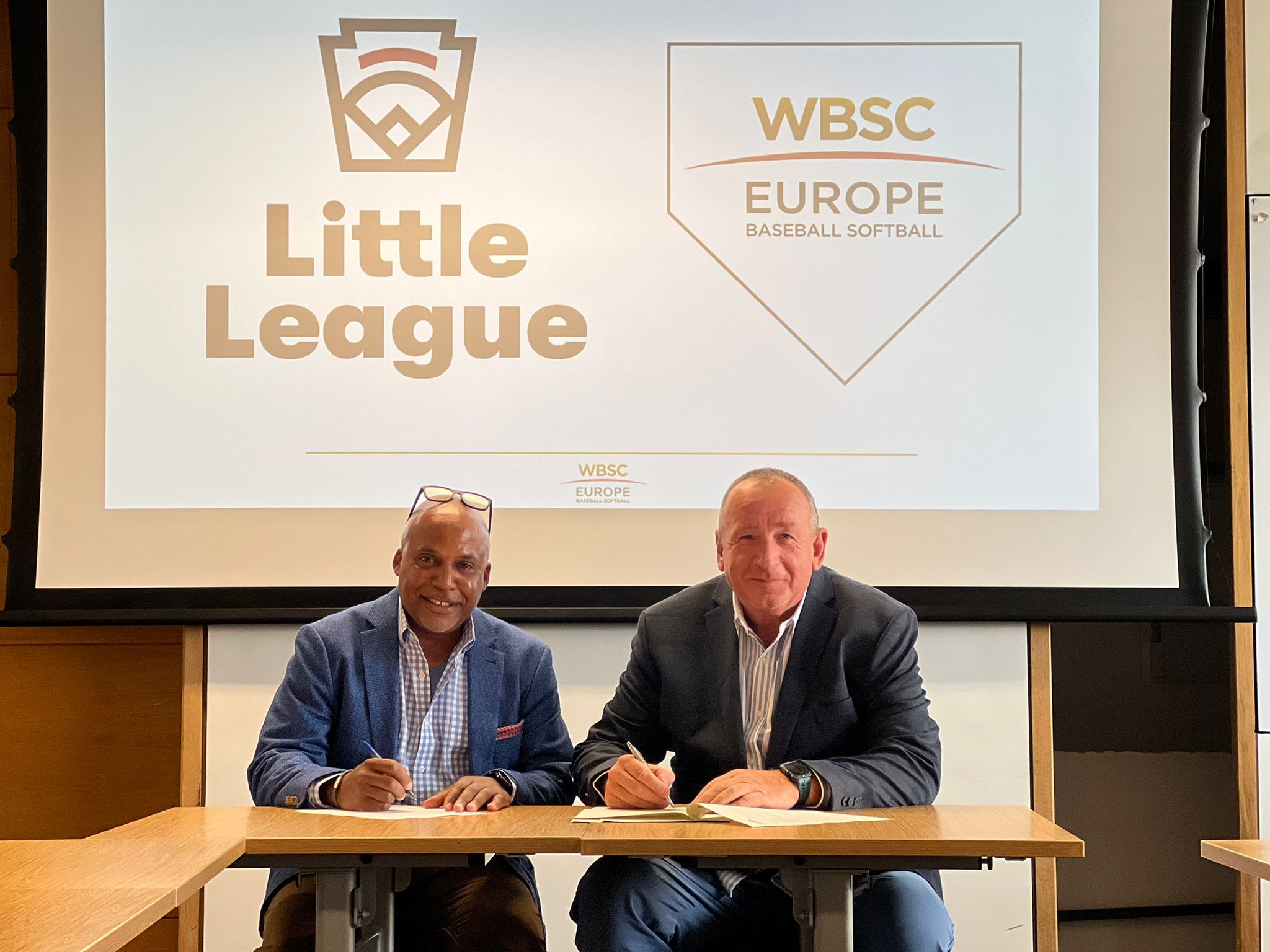 Little League® and the World Baseball Softball Confederation-Europe (WBSC-Europe) have signed a five-year agreement to continue their efforts around growing the game of baseball and softball throughout Europe. The agreement was signed by Patrick W. Wilson, Little League Chief Operating Officer, and Kruno Karin, WBSC-Europe President, on Saturday, June 24, in London as part of the 2023 London Series festivities.
"The relationship we have built together with the World Baseball Softball Confederation over the years has allowed us the opportunity to bring the game of baseball and softball to children all across the world and continue to not only grow the game in thousands of different communities, but also create fans of the game that will instill memories that will last a lifetime," said Mr. Wilson. "The strong commitment by the WBSC-Europe and their Board to supporting the development of our program across Europe continues to motivate us and we are thrilled to continue this partnership. We look forward to an exciting future ahead with our friends at the WBSC-Europe as we work to create new opportunities and enhance the sport across every level of the game."
As part of the extended agreement, Little League will provide funding directly to WSBC-Europe to support field development, baseball and softball promotional opportunities, retention of existing leagues and players, and more. Thanks to the continued support of the WBSC-Europe, Little League Baseball and Softball remains the world's largest youth sports organization with local league programs operating in more than 80 countries around the world. Earlier this year, Little League added Finland as its newest country in Europe to join its program, helping to bring the sport to more children in communities across the country.
WBSC Europe is the European governing body of Baseball, Softball and all National Team and Club competitions. WBSC Europe was established on February 10, 2018, during an extraordinary congress of the Confederation of European Baseball and the European Softball Federation in Val d'Europe, France. Walking in the footsteps of the World Baseball Softball Confederation, Europe became the first continent to merge its baseball and softball organizations into one single entity.