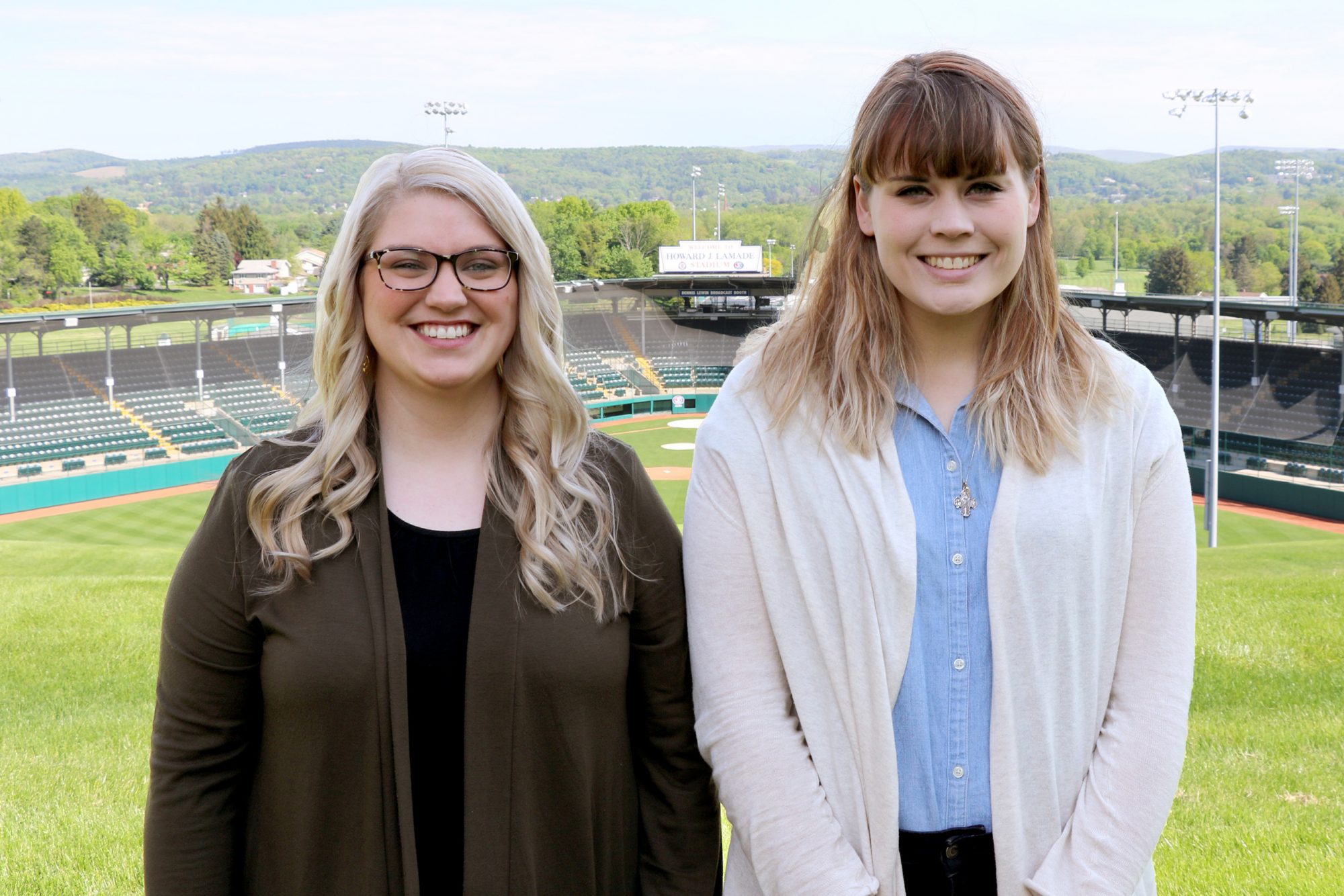 This spring, two new staff members joined the Little League International Communications Department, with Amy Brooks coming on board as a Graphic Designer and Hannah James being named Video Coordinator.
"We are excited to welcome these two highly skilled professionals to our team, as we continue to work together to put together the best resources for all of our local leagues and volunteers and share with our fans what the Little League experience is all about," said Brian McClintock, Little League Senior Director of Communications. "With these two new team members, we can continue to find new and exciting ways to communicate the importance of the Little League experience to all of our audience and provide our dedicated volunteers with the best resources possible."
The two new employees will join the Little League International Communications Department in creating resources for local Little League programs and volunteers around the world, enhancing the important role Little League plays in communities, and creatively sharing the unique stories of the Little League experience with fans across the globe.
Amy Brooks – Graphic Designer
Working alongside Amanda Cropper-Rose, Little League Graphic Designer, Mrs. Brooks will support the efforts of Little League International through the design and printing of materials to inform, educate, and entertain Little League's volunteers and players.
"I'm really excited to join the Little League team and for the opportunity to help develop the look and feel of the Little League brand for the future," said Mrs. Brooks. "Growing up nearby the Little League International complex, I've grown to know and understand the impact that Little League has on the community and am looking forward to sharing that feeling with local leagues all around the world."
Prior to joining Little League, Mrs. Brooks spent the last three years as the Owner and Graphic Designer for Panache Creative Design Company as well as time spent as the eLearning Designer for Brighton Training Group, the Webmaster and Graphic Designer for Academic Research Associates, and the Graphic Designer for Cedarville University Marketing. Throughout her professional career, she has created eight brand identities over the last three years, redesigned a website, and created publications for three weddings in a one-year span. In addition to her professional experience, Mrs. Brooks has received an Associate Web Design Specialist Competency Credential from Pennsylvania College of Technology and a B.A. in Graphic Design and Minor in Creative Web Design from Cedarville University.
Hannah James – Video Coordinator
Taking on a newly created position at Little League International, Ms. James will report directly to Rudy Mezzy, Little League Multimedia Producer/Editor, and will assist with expanding video efforts of the world's largest youth sports organization. Overall, the position will work to help produce video features, documentary style series, educational content, and assist with overseeing the production of thousands of highlights for our seven World Series events, telling the stories of our program and the communities involved.
"I am very grateful to Little League for this incredible opportunity and am looking forward to being able to work with the entire staff at Little League to help develop and grow the video content we are able to produce each year," said Ms. James. "The use of video is a great way for Little League to tell their incredible stories, provide education and guidance to its local leagues, and share the true value of what the Little League experience means to people all around the world, and I am looking forward to the opportunity to help share those moments."
Prior to joining the Little League team, Ms. James spent time as a Set Production Assistant for FOX Sports at the U.S. Open, worked as an In-Game Production Assistant for PensTV with the Pittsburgh Penguins, and served as an Assistant Editor/Producer/Shooter for Awesome Films in Pittsburgh. Among her film experience includes time spent as an Assistant Editor/Shooter for "The Penn State Hockey Story," which was nominated for a Mid-Atlantic Emmy. A graduate of Point Park University in Pittsburgh, Pennsylvania, Ms. James received a B.A. in Cinema Production in April 2016.