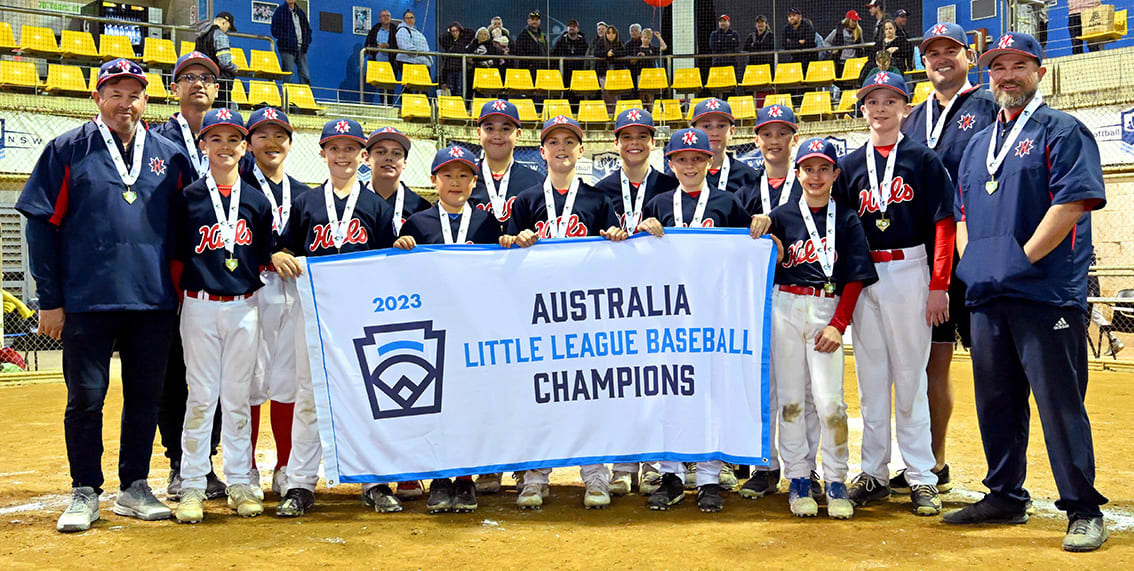 With its 2023 Australia Region Championship title, Hills Little League from Sydney, New South Wales, has earned direct entry into the 2023 Little League Baseball® World Series (LLBWS), Presented by T-Mobile, after a close championship game.
The 3-2 victory over Brisbane North Region Little League came after an undefeated run through the Region tournament. Hills LL finished 7-0, outscoring its opponents 54 to 10.
This will be third time Hills LL makes the trek to Williamsport, with the most recent in 2017. But it was the league's performance in the 2016 LLBWS that is bookmarked as Australia's most successful trip since the country gained direct entry in 2013. Hills LL secured two wins by taking down teams from the Europe and Africa Region and Caribbean Region, before being knocked out of the elimination bracket by the Mexico Region team.
With the first-round matchups of the 2023 LLBWS announced on June 6, in coordination with the anniversary of the first-ever Little League game played in 1939, Hills LL will face off against the representative from the Caribbean Region. The two teams will take to the field at Volunteer Stadium in Game 5 on Thursday, Aug. 18, at 1 p.m.
Australia is one of the few nations with an automatic bid into all four Little League Baseball tournaments, with their most recent direct entry into the Little League® Intermediate (50/70) Baseball Division World Series starting in 2018.
The 2023 Little League Baseball World Series, Presented by T-Mobile, is set to take place August 16-27. More information about the 2023 Little League World Series tournaments, including full schedules and downloadable brackets, can be found at LittleLeague.org/WorldSeries.