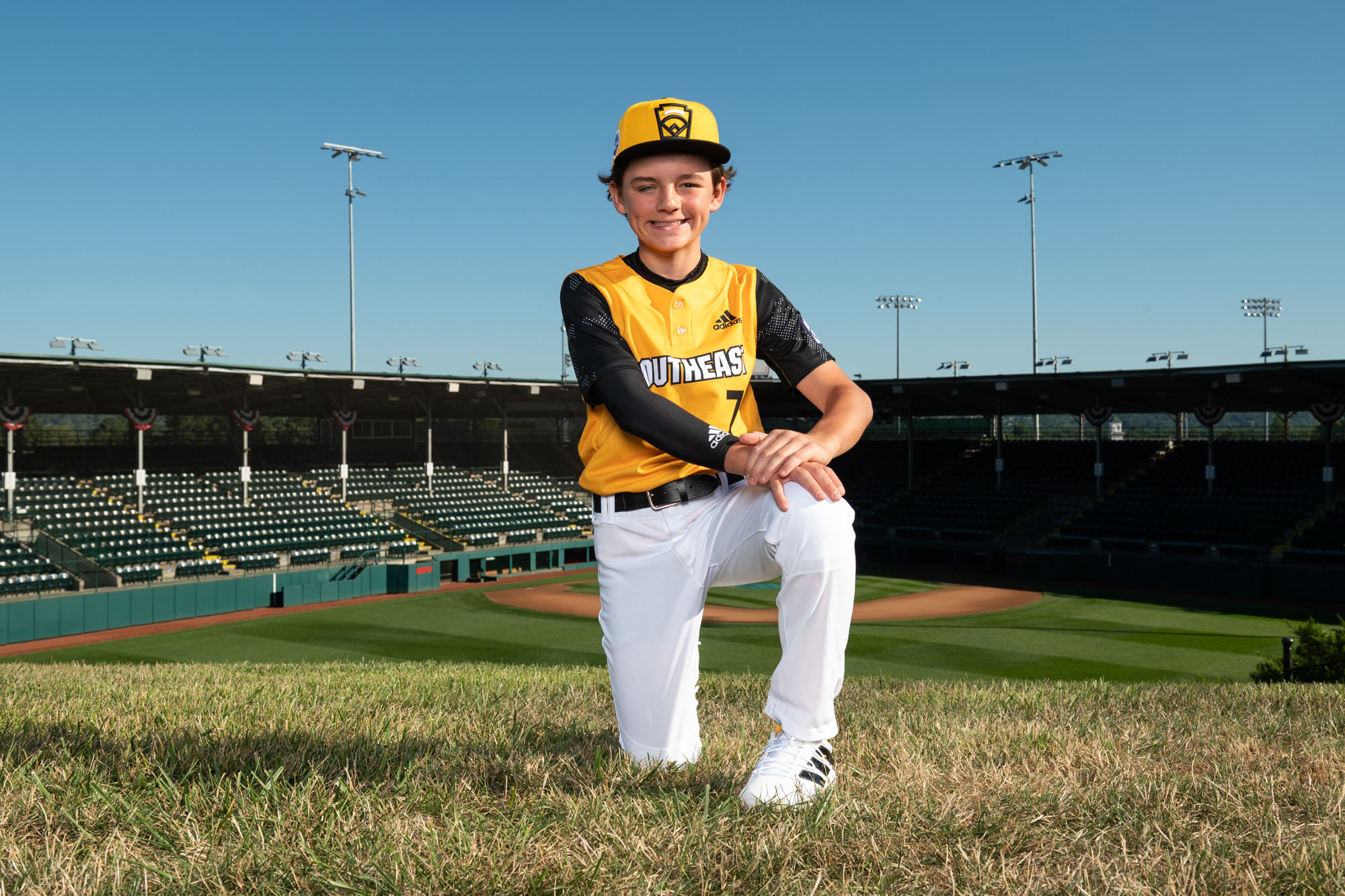 Josiah Porter's family sat in the hospital room praying late into the night, huddled around the six-year-old with a bandage over his right eye. Josiah had just undergone emergency surgery after accidentally walking into the sharp corner of a toolbox hanging on a pickup truck, but he was far from out of the woods.
Despite doctors already declaring young Josiah legally blind in his right eye, he would undergo four more eye surgeries in the next year in an attempt to save his retina from completely detaching. The seemingly endless road to recovery that ensued sidelined the seven-year-old athlete and forced him to wear dark, thick glasses to protect his sensitive right eye. However, Josiah refused to give up on his athletic dreams as he continued to fight through an additional surgery as a part of his long rehabilitation period.
Before the accident, Josiah was an adept athlete known for his talent on the basketball courts and Little League® diamonds of Nolensville, Tennessee. A show-stopping shortstop, he made the play of a lifetime at just five years old, single-handedly turning a triple-play.
But even after darkness consumed his right eye and forced an athletic hiatus, Josiah kept moving towards the light at the end of the tunnel.
After years of grueling rehab, Josiah's perseverance paid off this summer as he lived out the dream of every young baseball player, taking the field at the Little League Baseball® World Series. The mighty righty played a key role in Nolensville Little League's journey to Williamsport, hitting .300 through four Southeast Region Tournament games and striking out only once.
"Josiah can hit. He can really hit. He can hit a 70 mile per hour fastball. Most people with two eyes can't hit a 70 mile per hour fastball and this kid can," said Randy Huth, Nolensville Little League Manager. "He's a very special kid and he's one of my heroes."
More impressive than Josiah's excellence at the plate is his play in the field, where he dazzled as a relief pitcher in Nolensville's opening round game in the Southeast Region Tournament. He threw just 35 pitchers, 30 of them for strikes, and struck out nine batters while putting together an immaculate inning.
Josiah also learned to play a brand-new position this summer as a part of a stacked Nolensville squad. The former middle infielder transitioned to the outfield, and despite the difficulties that come with only being able to see out of one eye, Josiah has yet to register an error this summer.
"You have to focus on everything you do whether you're in the infield or the outfield, but the outfield is just a little bit harder to focus on the ball and track it," said Josiah.
More than anything, Josiah's accident taught the young athlete how to fight. The entire Porter family relied on the power of prayer to support Josiah as he battled through the countless eye drops, doctor's visits, and experiences missed due to his unfortunate accident.
"It's hard. I don't want anyone to think these last five years have been easy with this," said Brandon Porter, Josiah's father. "There's a lot that he goes through, but Josiah has overcome it, he's tough."
Toughness is just one of the intangibles displayed by Josiah on and off the baseball diamond, perfectly encapsulated by a recent at-bat against Great Lakes Region ace Kaden Hall, who inadvertently caught Josiah on the hip with a 74 mile per hour fastball.
Even though the sound of the hit batter reverberated throughout the stadium, Josiah hustled down the baseline, took a quick jog down the foul line and got right back on first base. His toughness lit a fire under the Nolensville dugout, sparking the momentum that led to a 5-2 extra-inning victory.
Contributions like this cannot be accurately described in a box score, although his coaches are sure to enjoy Josiah's .455 on-base percentage that is the fifth best on the team. Josiah's gritty determination and ability to overcome adversity provides inspiration far outside the dugout, where Josiah has proved that he will conquer whatever obstacle dares cross his path.
Josiah Porter can be described as a stellar baseball player, a crafty point-guard or an overall amazing athlete. But more than anything, Josiah is a role model for Little Leaguers® in every corner of the world.
"I hope I can influence kids that have the same problems as I do to just not care about it and keep on playing," said Josiah. "Anything's possible, you just have to believe and focus on your goals and not pay attention to anything else."