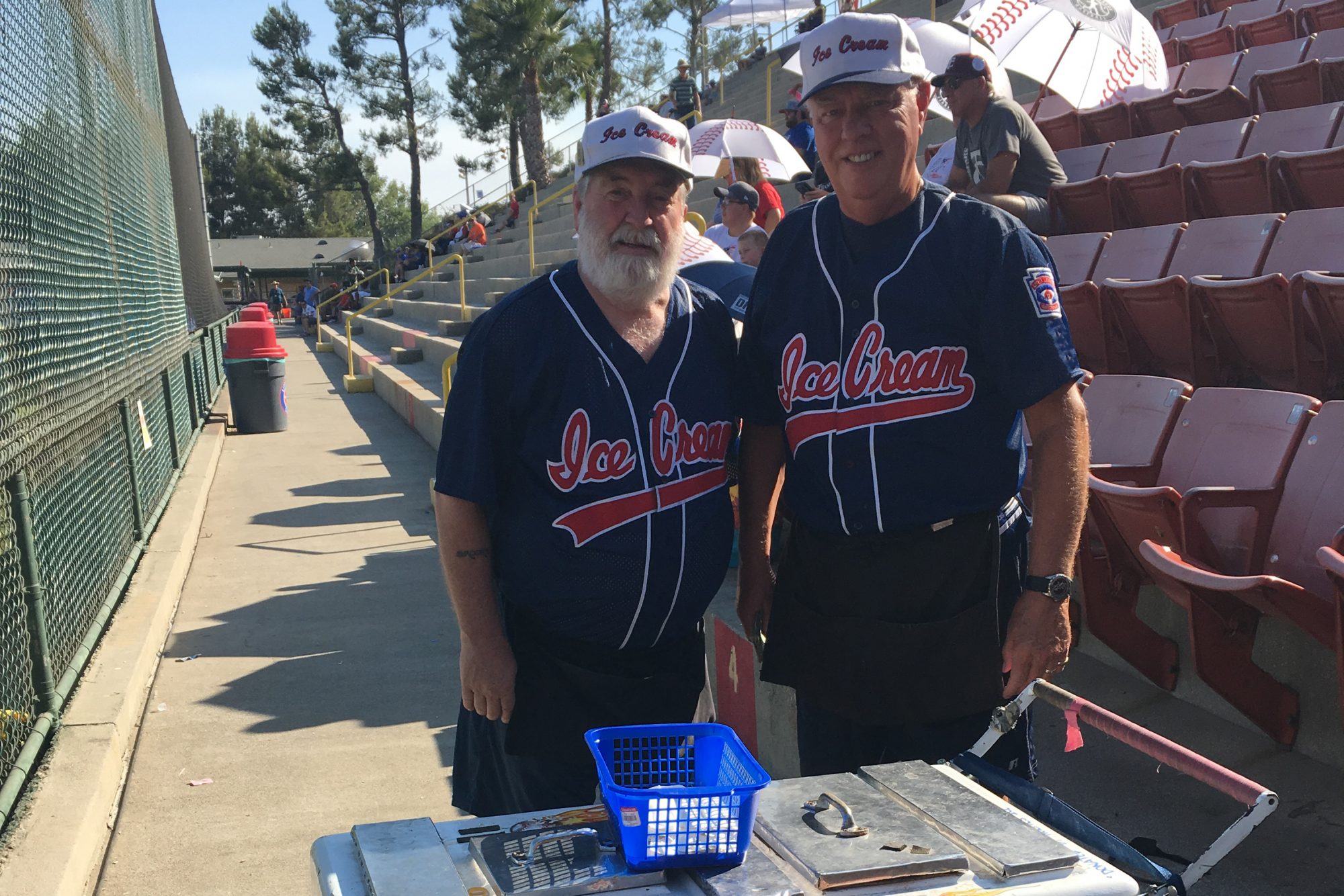 They are colorful, they are entertaining, they are unique, and with this year's triple digits of heat in San Bernardino, they maybe the MVPs of the Regionals.
The iconic "Ice Cream Guys" started 24 years ago, and was inspired by the army of volunteers that helped run the Western Regional Tournament. Jim Brooks and Wayne Lallier wanted to do their part to help. Several years later, Dave Kok joined as a substitute and has been helping out full-time with Mr. Brooks for multiple years as Mr. Lallier could no longer do it. Next year, the group is hoping to get the entire crew together next year to celebrate the 25th year and a Golden Anniversary.
While looking into how they can help out at the Tournament, the group saw that the ice cream bars sitting in the concession stands were not selling and saw an old ice cream cart in storage not being used. From there, an idea was born and a tradition started. The first year, the costume was made of ice cream bar boxes worn as hats on the top of their heads.
From there it just got better. Paint, decorations, a fixed-up cart, and crazy outfits can now be seen throughout Al Houghton Stadium as the group sells ice cream on hot August nights. One night, it might be two guys in baseball uniforms. Another night, nothing less than formal attire is worn. Their favorite costume? A Pirate.
Every year since 1995, they have been out selling ice cream and entertaining the fans. Soon after, their act caught the attention of the Little League International staff in Williamsport and they were off to the Little League Baseball® World Series to entertain the fans back East. In addition to his role as an "Ice Cream Guy," Mr. Brooks has also gotten to umpire in the 2001 Little League Baseball World Series.
The "Ice Cream Guys" even have a thoroughbred horse race named after them. Mr. Brook's daughter works for Oak Lawn Race Track in Hot Springs, Ark., and several years ago she told the story about her Dad and the "Ice Cream Guys" to the Board who honored them by naming one of their races, the "Ice Cream Guys Classic."
To the visitors of California, Pennsylvania, Arkansas, as well as the millions of viewers of ESPN the "Ice Cream Guys" are well-known to Little League fans from around the world.
While their visibility has grown, the notoriety has not changed their volunteer spirit that helps make the Western Regional Tournament the event that it is. Every year, they continue to get excited seeing the smiling faces of both kids and adults. Even after over two decades of service, they are proud to say that "every year is still fun and exciting. We have such fun mingling with the fans."