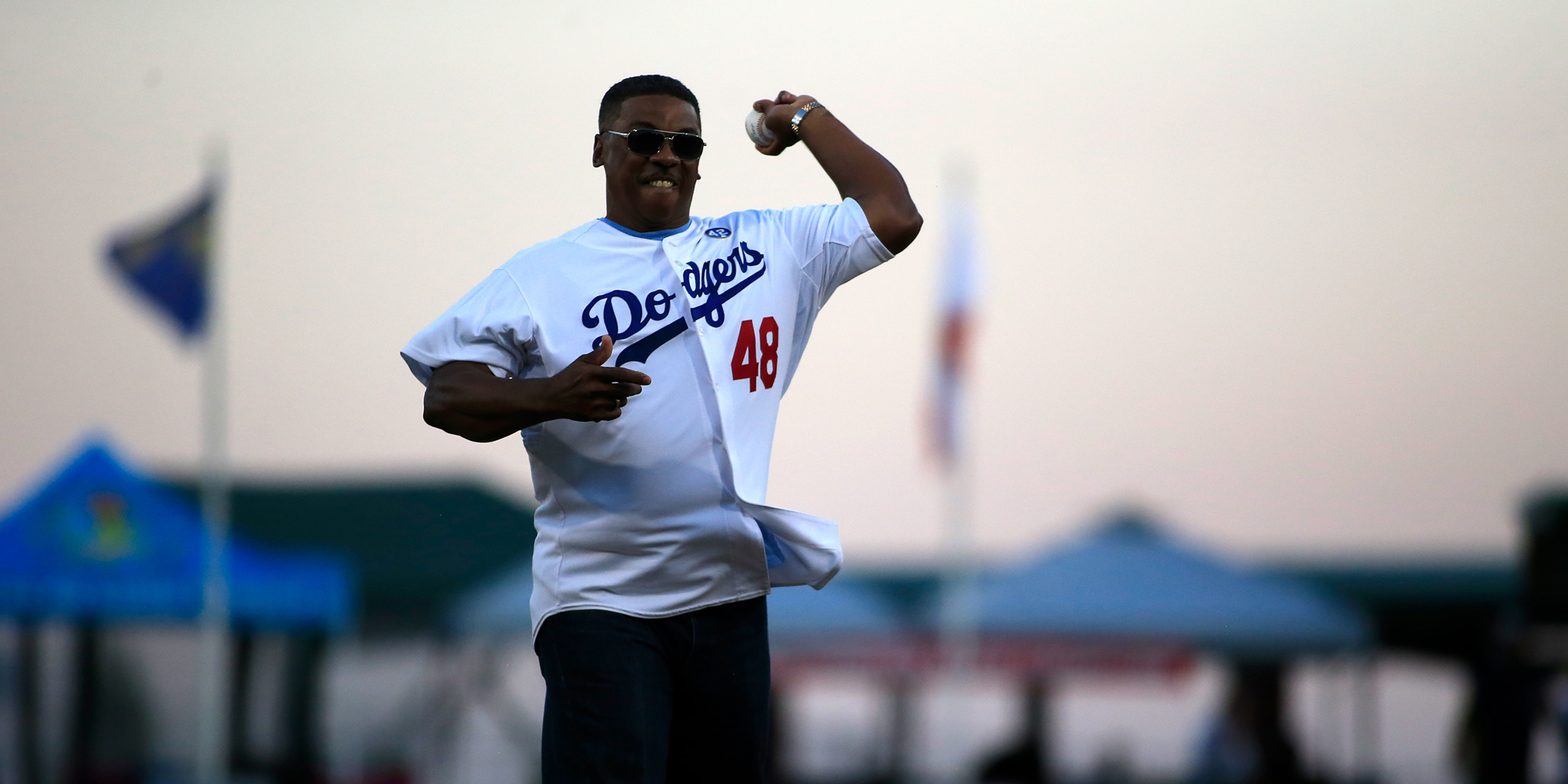 Two were pioneers in their respective areas, one won a World Series, another threw a no-hitter, while another was named to his team's Hall of Fame. Two come from the local area and another played Little League Baseball, but is known more for being a part of another sport.
What do they all have in common? They will each be throwing out a ceremonial first pitch at the 48th Annual Little League Baseball® Western Regional Tournament at 6707 Little League Dr., San Bernardino, Calif.
Monday, August 6 – Adam Kennedy/Marge Villa
Former major leaguer Adam Kennedy will throw out a first pitch on Monday, August 6, at the 4:30 p.m. game between Nevada and the winner of the Southern California/Northern California game. Kennedy grew up in Riverside, playing Little League before going on to star at JW North High School. He went on to become a three-time All-American at Cal State-Northridge. He was originally drafted by the St. Louis Cardinals, but later traded to the Anaheim Angels where he was a key member of their 2002 team that won the World Series over the San Francisco Giants in seven games. During the Angels run to the world championship, Mr. Kennedy was named MVP in the American League Championship Series. He retired from the Los Angeles Dodgers in 2011.
At the 7 p.m. game on August 6 between Wyoming and the winner of Washington/Idaho, Marge Villa will throw out a first pitch. Ms. Villa was a member of the All-American Girls Professional Baseball League; the league made famous by the 1992 movie, "A League of Their Own," which starred Tom Hanks, Madonna, Rosie O'Donnell, and Geena Davis. Ms. Villa played from 1946 to 1950 in the 12-year league that started at the beginning of World War II. Ms. Villa ended her career holding the single-game RBI record with nine RBIs. Since 1988, she has been part of the Women in Baseball exhibit at the National Baseball Hall of Fame in Cooperstown, N.Y.
Tuesday, August 7 – Calvin Pickering/Pete Arbogast/Kevin Gross
Calvin Pickering will throw out a first pitch at the 11:30 a.m. game on Tuesday, August 7. He is the 10th individual ever to play major league baseball from the Virgin Islands. He began his career with the Baltimore Orioles, and ended with the Kansas City Royals. He was a first baseman.
The ceremonial first pitch at the 4:30 p.m. game on Tuesday, August 7, will be thrown out by sports announcer Pete Arbogast. He is known as the voice of the 25- time Rose Bowl Champion and 11 time National Champion USC Trojan Football team. What most people do not know is that his sports career started as a Little League player in Hollywood, Calif. Graduating from Marshall High School and later the University of Southern California, Mr. Arbogast's career has also seen him broadcast Cincinnati Bengals and Los Angeles Clippers games.
Former major league pitcher Kevin Gross will throw out a first pitch at the 7 p.m. game on Tuesday August 7. He started his 15-year career with the Philadelphia Phillies where he was named a National League All-Star in 1988. He later pitched for the former Montreal Expos and, in 1991, became a member of the Los Angeles Dodgers where a year later, he threw a no-hitter against the rivaled San Francisco Giants. Mr. Gross is also a member of the Ventura County Sports Hall of Fame.
Wednesday, August 8 – Chad Zerbe/Dave Coggin
At the 4 p.m. game on Wednesday, August 8, former major league pitcher Chad Zerbe will throw out a first pitch. Mr. Zerbe played four years for the San Francisco Giants, posting a 6-1 record and 3.87 ERA. As a member of the National League Champion 2002 San Francisco Giants, he won Game 5 of the World Series against the Anaheim Angels.
The ceremonial first pitch at the 7 p.m. game on August 8 will be thrown out by former major league pitcher Dave Coggin. He was a member of the Philadelphia Phillies from 2000-2003. Born in Covina, he later attended and graduated from Upland High School. A right-handed pitcher, his best year was 2001 when he recorded a 6-7 record with a 4.17 ERA.
Thursday, August 9 – Mike Sweeney
Kansas City Royals Hall of Famer Mike Sweeney from Ontario, Calif., will throw out a first pitch at the 6 p.m. game on Thursday, August 9. Mr. Sweeney spent 16 years in the majors, with 13 of them with the Royals. A five-time All-Star, Mr. Sweeney hit .340 in 2002, finishing second in the American League batting crown to Manny Ramirez. He also had a 25-game hitting streak that season. The former Royals Captain ended his career with a .297 batting average and 215 home runs.